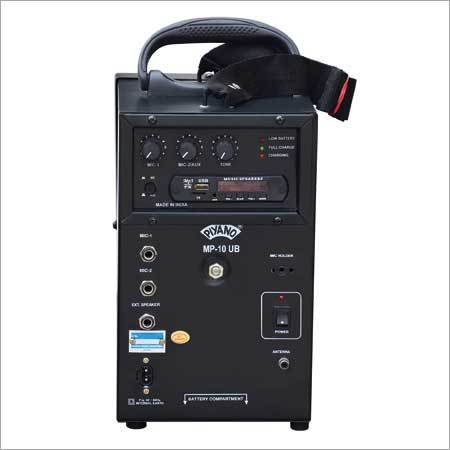 PA MEGAPHONE WITH DIGITAL PLAYER
Product Description
Mega Phones
Features:
Operates on 230V AC/12V DC Internal re-chargeable Battery
2 Mic & 1 Aux Inputs
Built In USB 2.0, MMC & SD Card with digital FM tuner
Provided remote for all functions
3-LED array for low batt., full charge & charging
Provision for use of external speaker
Belt & Handle provided for easy handling
Battery gets charged when operates on AC or connected.
Provided with (Rechargeable Batt.) & one Mic.
Technical Specification:
SPECIFICATION
MP-10UB
POWER SUPPLY
AC 220-250V 50/60Hz
DC: 12V Rechargeable Batt.
POWER OUTPUT
20W MAX.
INPUT CHANNELS
2 x MIC 0.6mV/4.7K,
1 x AUX. 70MV/470K
FREQUENCY RESPONSE
200-7,000 + 3dB
TONE CONTROLS
TONE : 10dB at 10KHz
VOICE RANGE
Covers 500 Meters (Approx.) in Quiet Area
DIMENSIONS
W177 x D229 x H287mm
NET WEIGHT
6.730Kg (with battery)